There has been a hut at Maungarau for a very long time on a track that left the Matemateaonga walkway and ended at the Waitotara River valley road via Maungarau hut and Pokeka hut. This track provided an option for the more experienced trampers and had old style forestry huts that everyone but DoC seem to like.
The hut has been sited near to Maungarau trig from which one can have an amazing view.
DoC Whanganui controversially ceased maintenance on the tracks to this hut and Pokeka Hut and removed the newly built Maungarau hut or relocated it to an unknown position. Pokeka was removed and not replaced.
DoC removed the existing "homebuilt" model shown below and had no intentions of replacing it. This site is a high point on the ridge, getting snow some winters, and shelter was important as a safety factor. So volunteers built a new hut in 1997 with permission from the Minister of Conservation. Unfortunately this public arrogance riled DoC Wanganui, who removed it within a few years of its erection, even though it had a valid building permit. Considering it was funded and built by the public, DoC's treatment of the users of this area is pretty amazing. (see link to right). This whole area continues to suffer from a total disinterest from DoC.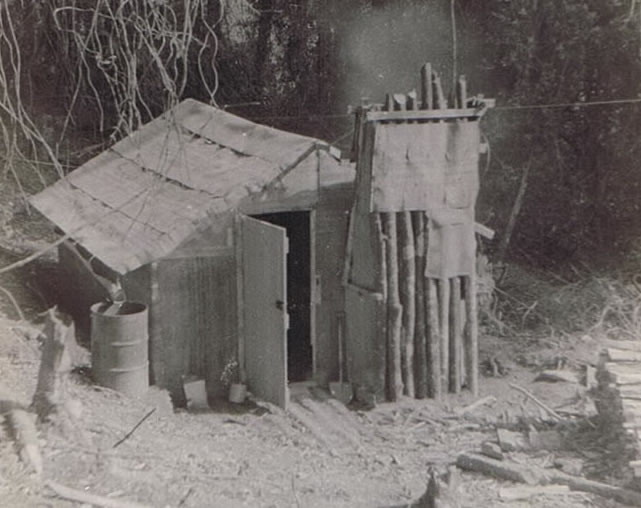 Maungarau Hut 1969 from nzdeercullers.org.nz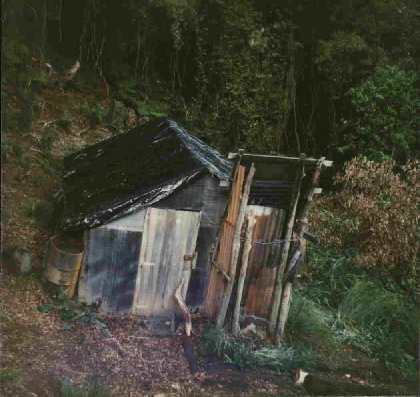 Maungarau around 1976 (above) and the 80's (below).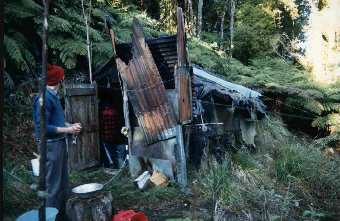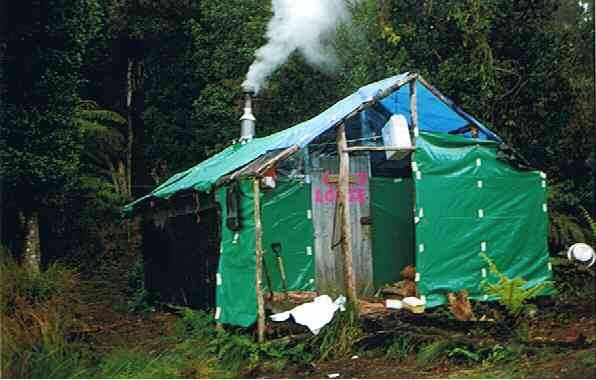 Removed by DoC in the late 90's
Below is the hut built by the public, and removed after DoC repeatedly changed the rules until it no longer passed. Eventually, without visiting the hut, a Doc Inspector decided the wind loading should be changed to "very high" so the screw in anchors accepted by the first inspector were now not good enough, and the wire not taut enough (decided from a photo?). Thus he finds the hut unsafe. Look at the trees - a real windy site. Yeah right.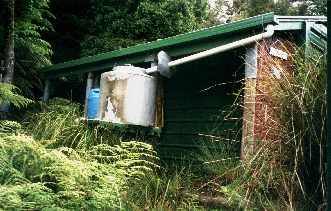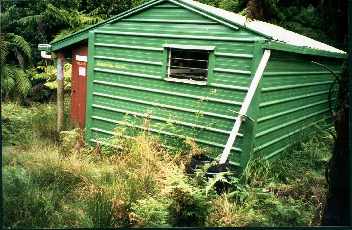 DoC also decided that to be safe this hut needed to have:
The bunks removed
The mattresses removed!!
The cooking bench removed
The shelves removed
The water tank removed
The external toilet removed
DoC removed the hut in 2005 - at a cost of $10,000. The shelter promised by the Recreational review if Maungarau was removed has not happened.
An article in Daily News 17th December stated Maungarau and Pokeka huts have been removed due to low usage, not due to unsafe structure. Considering the hut had no log book (it was free), how numbers of users was measured DoC only knows.