These lakes complement a very pleasant day walk along Lakes road inland from Ngutuwera or can be used as a destination in their own right. Lakes road used to be the main access over the saddle to the upper Waitotara valley before the road following the river was formed.
The Lakes road is still there but unless you have a good 4 wheel drive, it is best walked. Because of its clay surface it is closed to vehicles over winter. After admiring the lake, walk on to the top of the hill and follow the track to the left along the ridge, through some yards on the public road (!). From here, after 15 minutes walking, a public bridle track goes off to the left following the ridge all the way to Raroa. Or continue on the main saddle track down to the Waitotara valley road. See local maps.
This Saddle road beyond the lake can also be accessed by vehicle from the Waitotara valley road. Drive 38.3 km from the main road at Waitotara and turn left onto a small tarsealed road. Park anywhere between the Waitotara Valley road and the first house, although it is public road and a good 4X4 could drive 3-4 km to past the yards on the top ridge (past the Raroa turnoff). Here there is a gate at some bl

uffs just before pine trees. Motorised vehicles cannot go beyond this point because the farm fence was placed along the middle of the road, but cyclists can carry on through the gate and left along the fence line and back onto unobstructed road after 300m or so. The other unobstructed track through the gate (it does not follow the fence) goes into the pine forest and is private.
The lake shown below is the biggest and located along side the road at the Lakes road end. On its banks are a few remnants left of cottage and gardens that were here. Several other smaller lakes are here if you are prepared to go and look.
It's location (Click to enlarge)
(Modified map from WAMS.org.nz)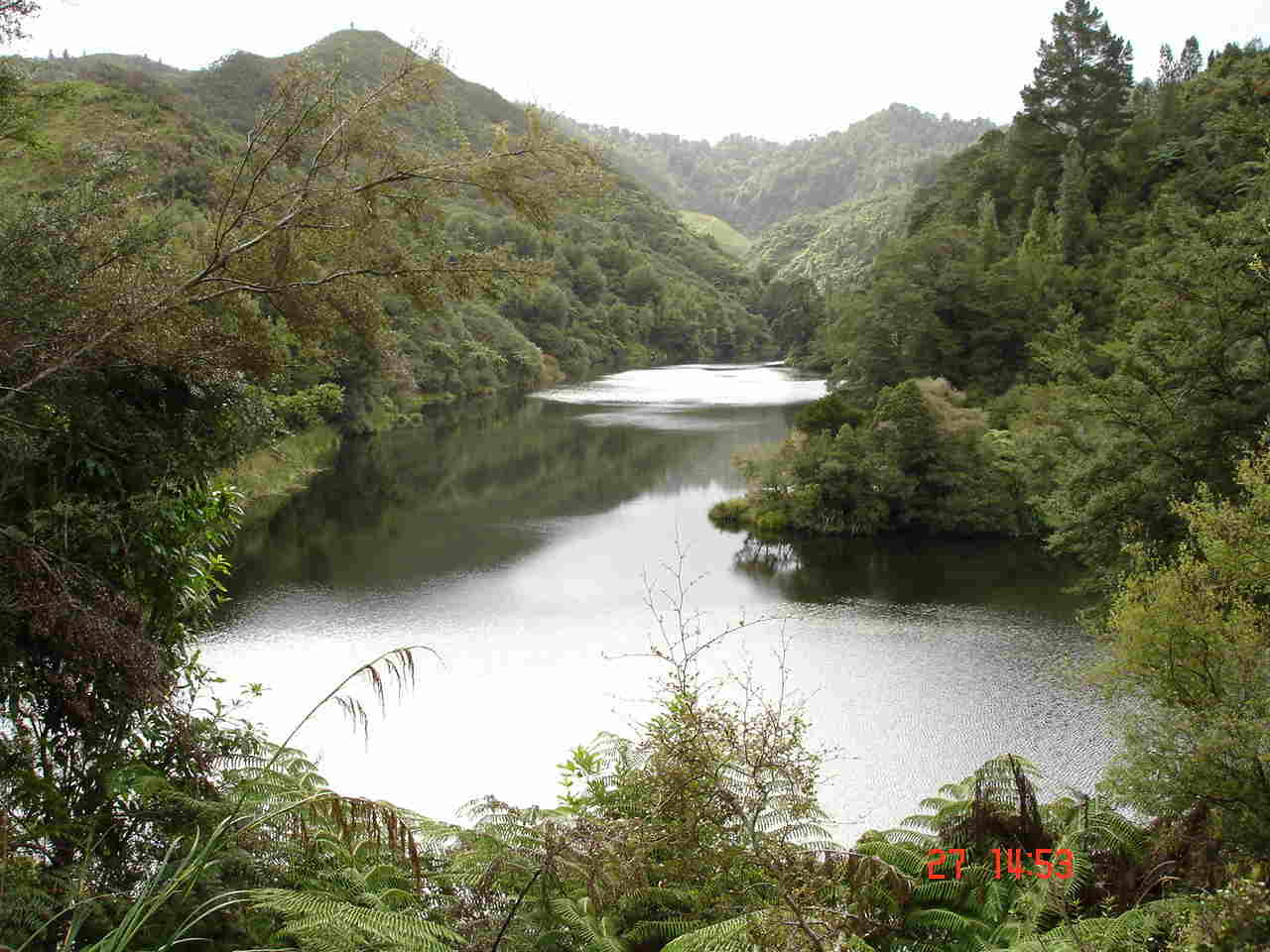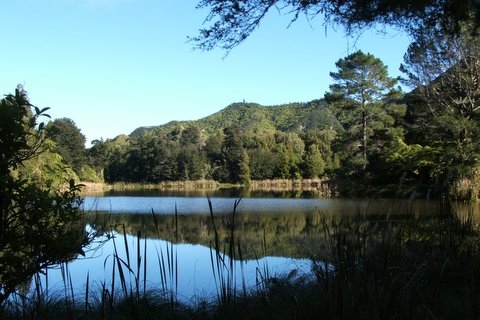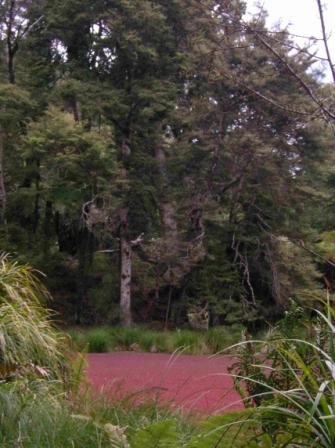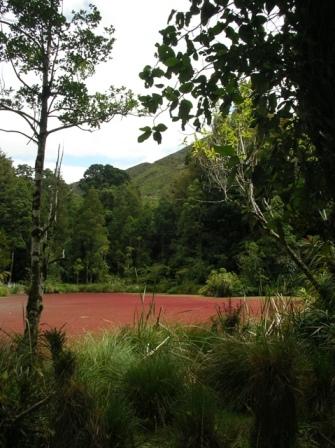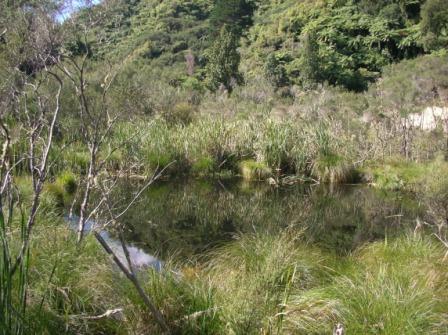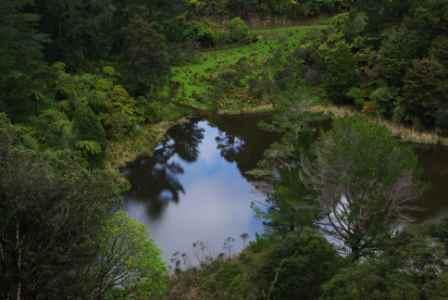 Some of the several smaller lakes. They lose their red colour at times.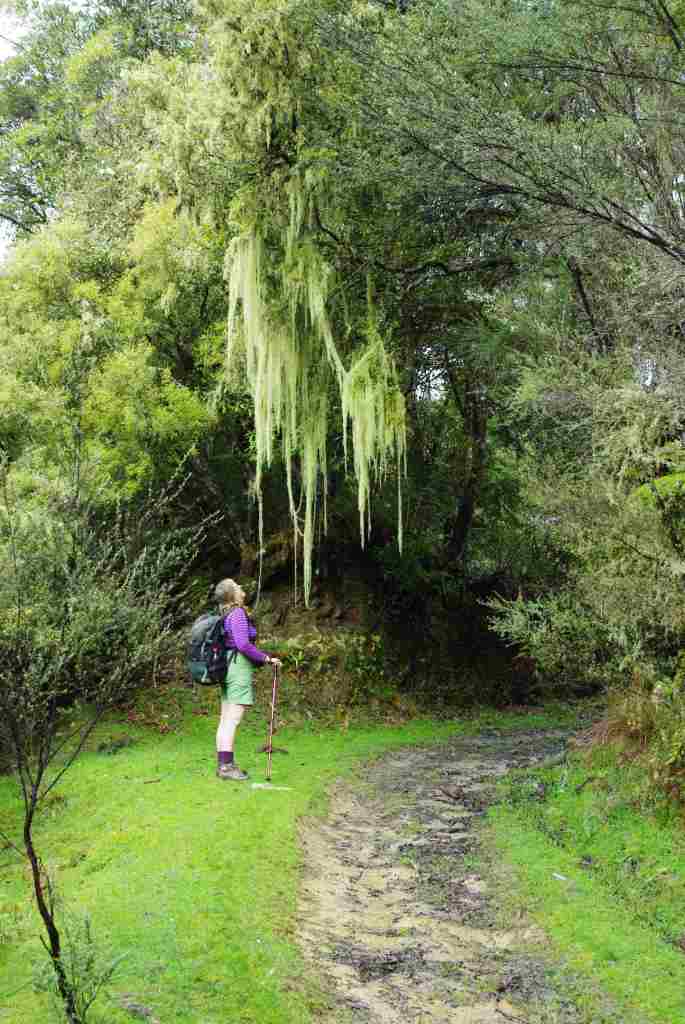 The Saddle track